Regulations :: traffic regulations
All races are rowed on 6 lane course.
All senior and junior(16 and 18) rowers race on a 2000 meter course.
All races
Course length for other categories is as follows:

| | |
| --- | --- |
| Juniors 14 single scull | 500 m |
| Juniors 14 pairs/doubles and fours/quads | 1000 m |
| Veterans | 1000 m |
| Adaptive athletes | 2000 m |

In case of severe weather conditions, the head of jury may decide to use lanes 2 to 7 or 3 to 8, instead of 1 to 6. In this event all crews move up one or two lanes.
Standard lane arrangement:

Lanes in use
#Crews
1
2
3
4
5
6
7
8
2
X
X
3
X
X
X
4
X
X
X
X
5
X
X
X
X
X
6
X
X
X
X
X
X

Violation of these regulations will result in a warning.
Regulations during races
During races lane 8 is used for traffic from the finish to the start. Crews wait at the end of lane 8 until the starter requests them to move towards the starting area. In no circumstance should crews leave lane 8 on their own initiative.
Warming up and cooling down:

Warming up/moving towards the starting area: lane 8. Once crews arrive in the starting area, they are not allowed to leave.
Cooling down: Between the 250m and 1500m towards the finish in lane 5 and 6. After the 1500m mark, crews should row back in lane 6. Crews should turn towards the start and stop rowing well in time of a approaching race.

Lane 7 should be kept free.
Lane 0 and 4 are used by the umpires.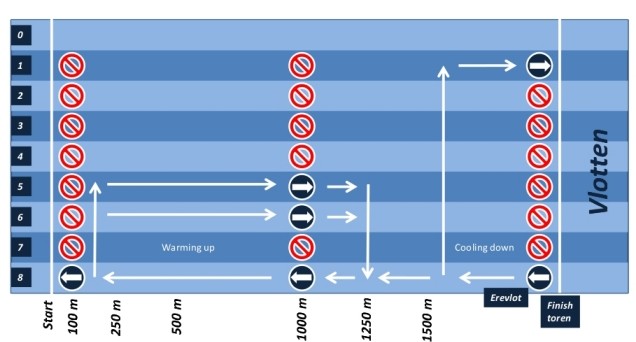 Regulations during training
Training times start directly after the last finish and end half an hour before the start of the first race of the day.
Lanes 0, 1, 2 and 3 are used for traffic from start to finish.
Lanes 5, 6, 7 and 8 are used for traffic from finish to start.
Lane 4 should remain free at all times.