Regulations :: traffic rules
De wedstrijden worden geroeid op een geballiseerde 6-ploegenbaan.
Voor de Martini Regatta bedraagt de baanlengte 2000 meter voor alle senioren en junioren 16 en 18 nummers.
Baanlengte voor overige categorieën bedraagt:

| | |
| --- | --- |
| Juniors 14 skiff | 500 m |
| Juniors 14 two and four | 1000 m |
| Veterans | 1000 m |
| Adapted rowers | 2000 m |
| Former race teams | 500 m |
| Sprints | 500 m |

Due to weather conditions it may be decided to move buoys 1 to 6, for 2 to 7, or from 3 to 8. All teams will move in sequence of the draw to the higher starting place.
Standard starting positions:

Buoys in use
#Crews
1
2
3
4
5
6
7
8
2
X
X
3
X
X
X
4
X
X
X
X
5
X
X
X
X
X
6
X
X
X
X
X
X

Violating any of the traffic rules is punished with a warning
Traffic rules during the races:
During the races, track 8 is used for traffic in the direction from finish to start. Teams continue to wait at the end of track 8 until the starter calls the teams to arrive at the floating pods. In any case, do not leave lane 8 left on your own initiative!
For warm up and cool down:

Warm up: lane 8 (rowing up lane). Once in the starting area, you should not leave it anymore. (You must therefore remain in the rowing up lane)
Cooldown: Between 250m. and 1500m in lane 5 and 6 it is allowed to row toward the finish lane. After 1500m point row back in lane 6 Please Note: Do this well before an approaching race; (bow towards the start) and lie in the oproeibaan silent!

Lane 7 is kept free!
Lane 0 and 4 is used for return boat with the referees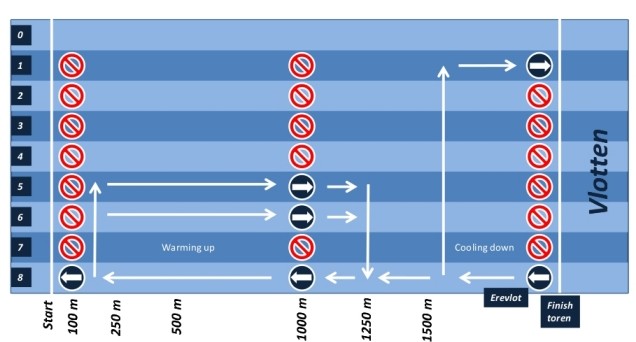 Traffic rules during training
Training times begin immediately after the final finish and end a half hour before the start of the first race of the day.
During the training courses 0, 1, 2 and 3 are used for traffic in the direction from start to finish
The lanes 5, 6, 7 and 8 are used for traffic in the direction of finish to start
Lane 4 is always kept free.